Image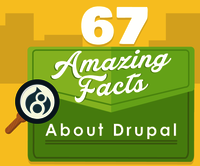 Usually, I write very short notes or articles in which I share useful tricks with my readers, but today, as an exception, I decided to share the very amazing infographic about drupal published on the Websitebuilder.org site.
A few days ago I received an email from Josh Wardini (Community Manager at Websitebuilder.org)
I thought I would pop over to see if you have any interest in our new infographic -- I recently stumbled upon your info online and I thought the topic may be something you would find useful. :-)

The infographic is all about Drupal -- the popular content management software and I thought maybe it would be a topic that you would find relevant for your site or your audience. It includes which celebrities use Drupal, what brands use Drupal, the most profitable Drupal companies, and all sorts of various facts. If you found the content in the infographic to be engaging I thought you may consider sharing it with your readers.

Anyway, does this topic sound interesting to you at all? Would you mind if I send it over for you to review?
Why not? I found that the infographics are very interesting and share the link with everyone: https://websitebuilder.org/amazing-facts-about-drupal/.